Here at The Last Straw, we've been selling high-quality silk flowers for 31 years, and we've seen our customers use silk flowers in some amazing ways. At the store, we create custom flower arrangements and wreaths using silk flowers, but there are A LOT of other ways to use silk flowers too. Here's the top 10 things to do with artificial flowers:



1. Floral Perfume Bottle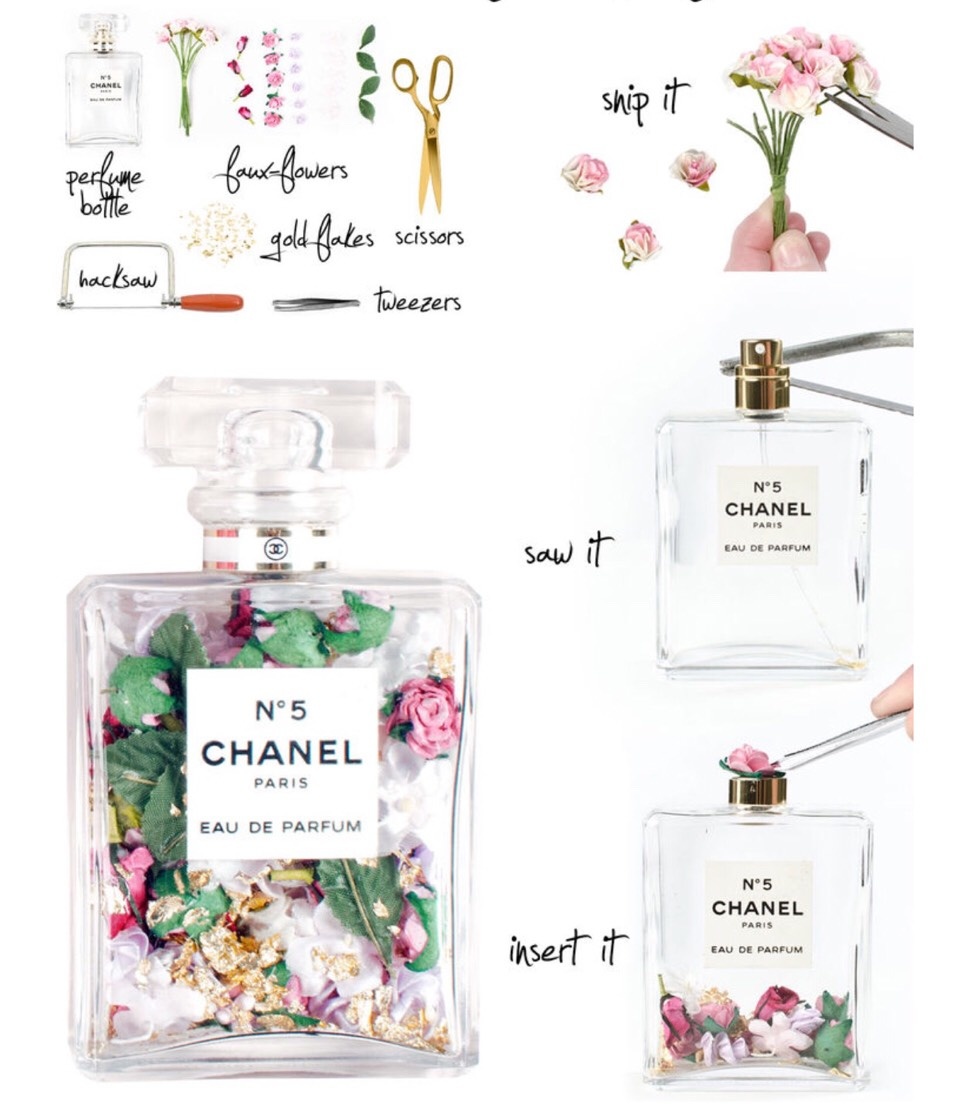 Do you have an empty perfume bottle in your vanity? Instead of getting rid of it, you can make a beautiful display for your home! I've never seen this idea before, so I would like to thank Musely, who created the above image, and blogged about this idea.
You'll need an empty perfume bottle, small silk flowers, wire cutters or scissors, and a pair of tweezers (note: with all of these creations, the better silk flowers you use, the better everything will look - you can buy very realistic silk flowers here!) Cut off the stems from your artificial flowers. Next, use the tweezers to drop the small artificial flowers into the empty bottle. For this project, it's probably best to use vibrant colors that will be visible from far away, like pinks, reds, and purples. Also, don't skip out on using greenery and white flowers as well, because they will provide a nice color contrast!
2. Flower Napkin Rings
Here's a fun idea from Country Living - adorn a set of napkins with silk flowers for a special occasion. This could work well for a wedding, holiday, or a special dinner party. You're guests will be absolutely stunned!
You'll need silk flowers, shower rings, a cutting utensil and a hot glue gun. Thread rolled napkins through a shower ring. Then, cut the stems off of your artificial flowers, and glue the flowers onto the shower ring. If you're pressed for time, or can't get the shower ring method to work, you can purchase ponytail holders from a local store for $1 each. Remove the decorations from them, and glue your flowers to the holders.
3. Make a Wreath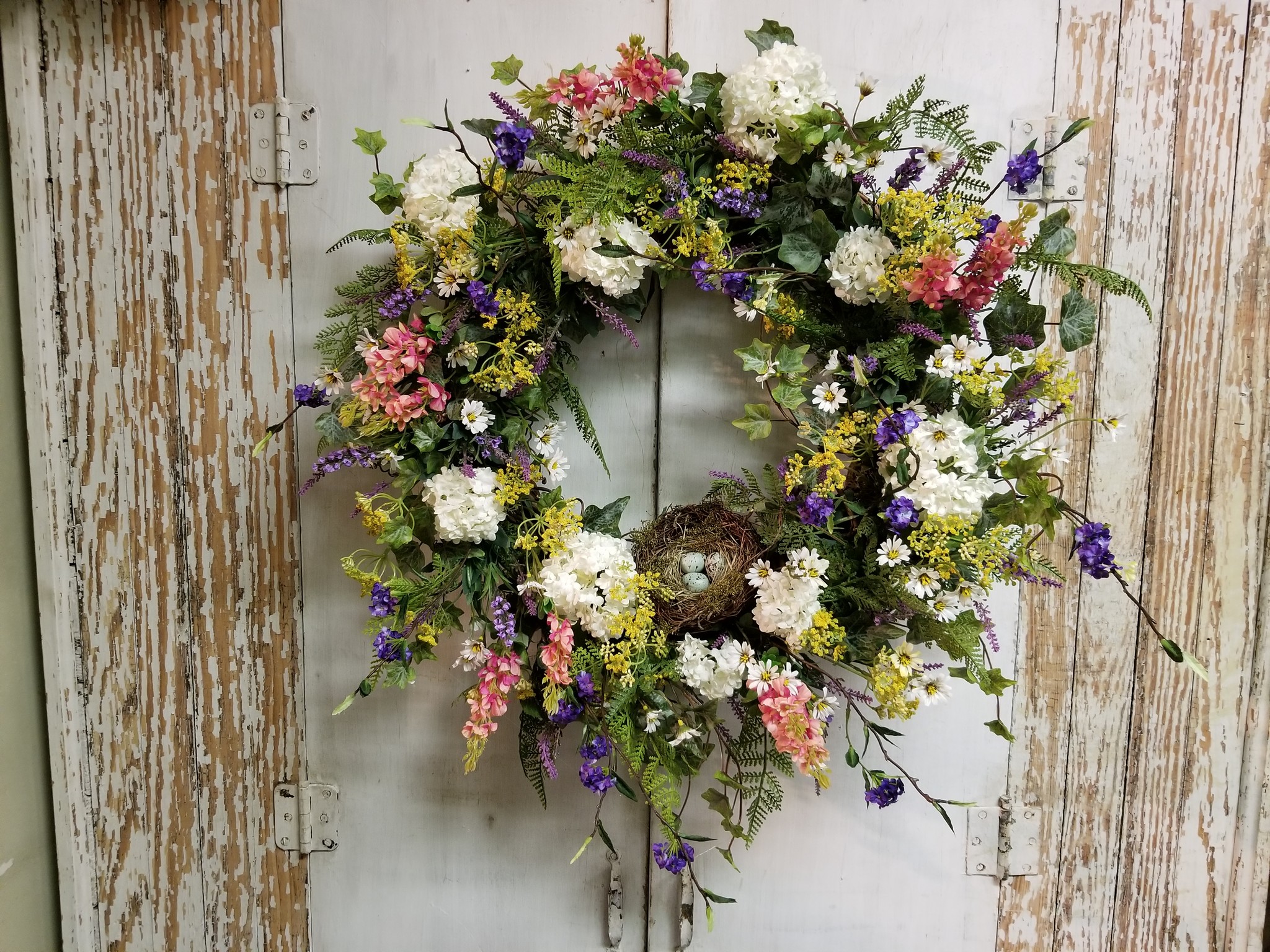 One of the most tried and true ways to enjoy artificial flowers is to make a wreath with them! Over the years, we've made hundreds on custom wreaths for our customers, and we've always seen visitors gravitate to them in our store.
We've already made a detailed post about how to make a beautiful wreath! Feel free to read it by clicking here.
4. 3D Floral Wall Art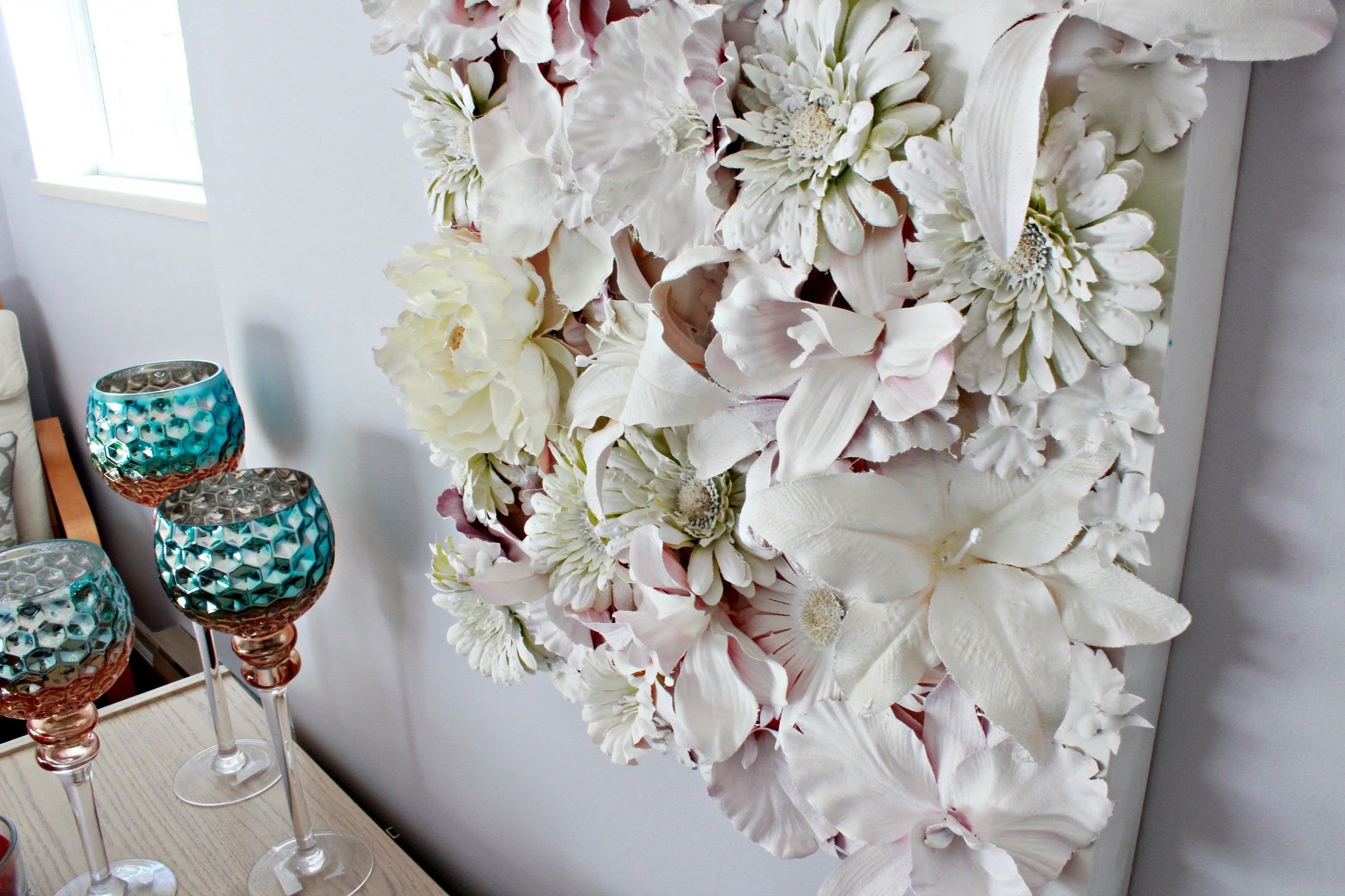 Here's a cool way to use silk flowers as wall decor. A YouTuber named ClaCali made an awesome video showing how to make this unique piece. Click here to watch the video!
You can recreate this using a canvas, wood or a clear shadowbox. In addition, you'll need silk flowers, a cutting utensil, and a hot glue gun. Be sure to pick a color theme ahead of time, so the silk flowers match the room you're putting this in. To make sure the flowers are flat enough to make this work, cut the stems as high as you can. Glue the silk flowers on, making sure to build up the layers so no canvas is showing.
5. Floral Ice Cubes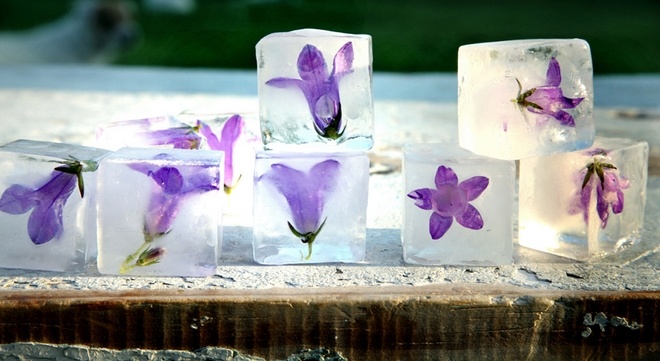 Maybe you've seen ice cubes using fruit or edible flowers. Did you know you can make these beautiful ice cubes using silk flowers as well? This idea comes to us from DIY Enthusiast.
It's simple enough - cut off the stems from a set of fake flowers, and place them in an ice cube tray. Fill the tray with water, and set it in a freezer. You can use these for special occasions like weddings, or for a summer cookout when you really want to impress your guests!
6. Floral Balloons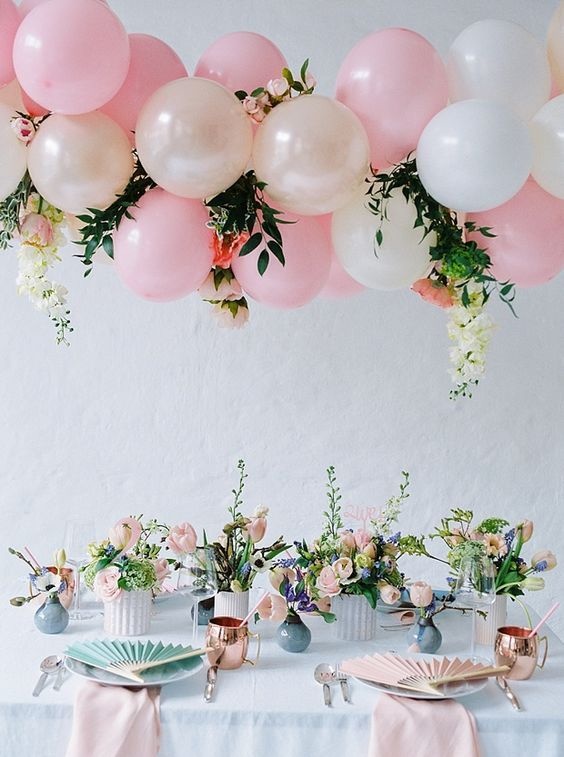 Another idea for a special occasion, brought to us in an article titled "Wedding Decoration Trends to be Looking for in 2018" from B. Bell Events. If you want to add some more class to your balloons, add some silk flowers to them!
There are several different ways you can approach this project. The easiest way is probably to tie the balloons together, and attach them where you plan to display them. After that, you can use hot glue to attach the artificial flowers to any strings used to hold the balloons in place. You can make some of the flowers and greenery dangle off the balloons for a pleasing aesthetic!
7. Floral Monogram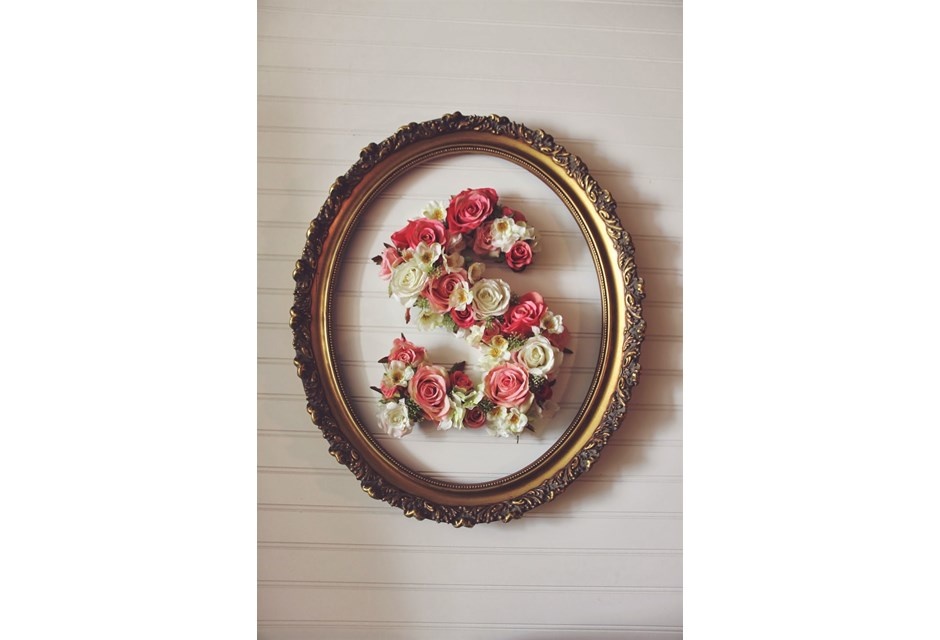 Monograms are still a popular choice for decorating a home, but with more people doing it, you might want to change things up. One way to set yourself apart is by making a monogram with silk flowers. This idea comes to use from HGTV Canada.
Once again, there are several ways to approach this project. You'll need silk flowers, a cutting utensil and a hot glue gun. You could use a simple canvas to display your monogram, or you could place your monogram inside a picture frame. Either way, all you'll need to do is glue the cut silk flowers in the shape of a letter, and display it for your guests!
8. Revamp Your Lamp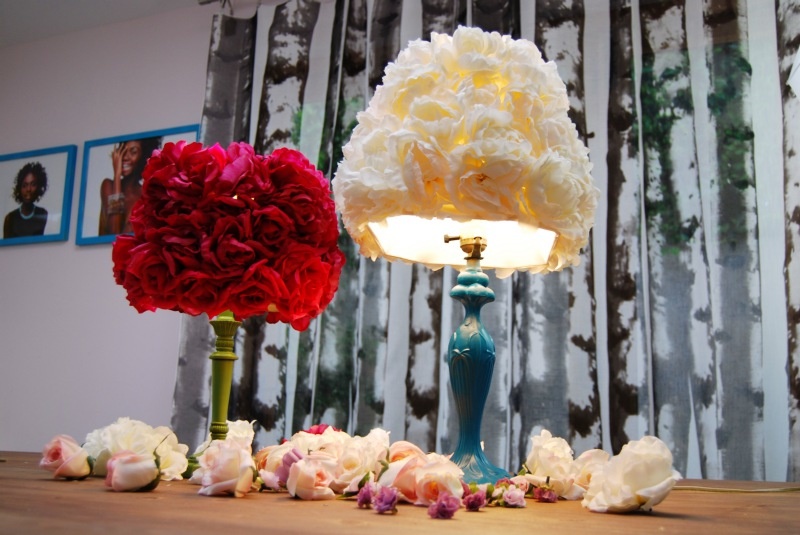 Here's an amazing idea that I've never seen before, compliments of an article titled "DIY faux fake lampshade." A step-by-step guide in available by clicking here.
What we love about this idea is how simple it is, but at the same time, how drastically it can change the feel of a room. All you'll need to do is cut the stems off of some silk flowers, and use hot glue to attach them to a lampshade! If you have an old lampshade you don't want anymore, don't throw it out, revamp it!
9. Make A Floral Map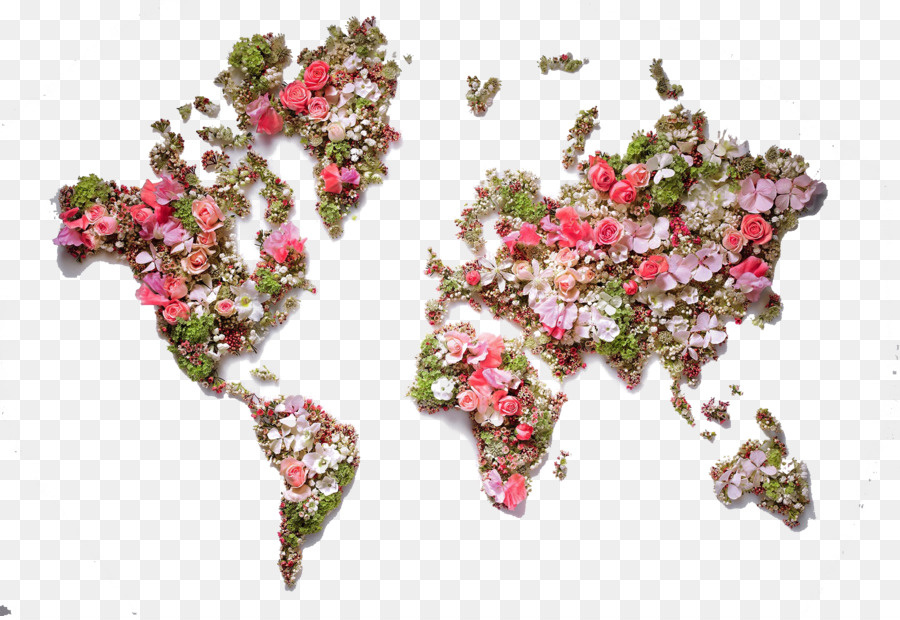 Isn't this lovely? Many homes are decorated with maps - sometimes for decor, and sometimes for a more practical reason: a lot of younger couples who enjoy traveling have a map in their homes. Whenever they travel, they stick a pin in the map, marking where they visited.
This 3D floral map takes that idea to another level! Like the other ideas on this list, you'll need to cut the stems off your silk flowers. Then, glue flowers onto a flat surface in the shape of a map! If you want some direction, look at a terrain map of the word, like this one. Use larger, more vibrant flowers to mark the higher elevation, and smaller flowers for the lower elevation. You'll end up making a stunning map!
10. Make an Arrangement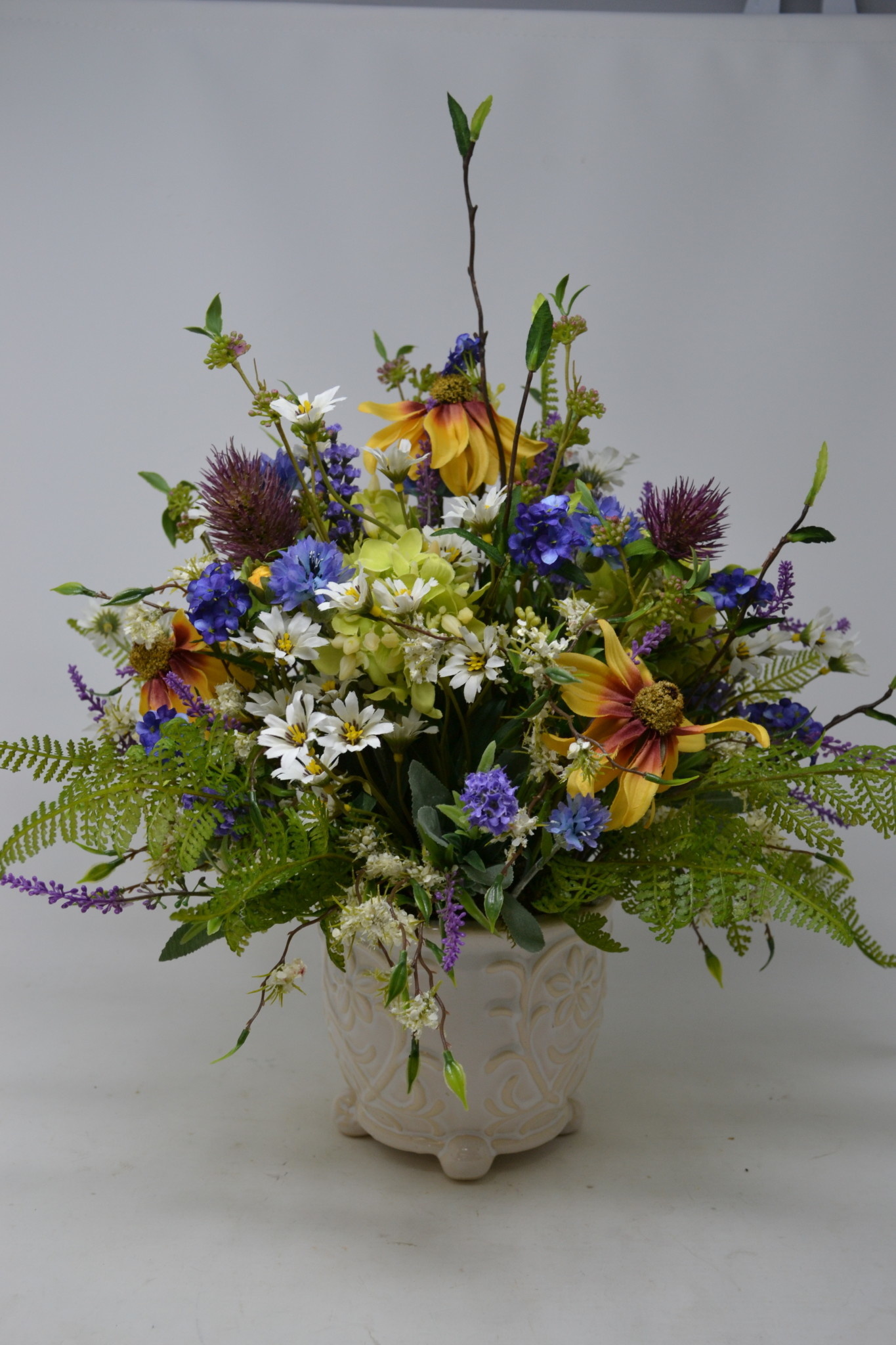 Making a great flower arrangement can be a little more tricky than you might think. You need to use quality silk flowers, and you need to pick a theme where the flowers will work together visually. Here's a picture of our latest custom arrangement called the "Happy Meadow Wildflower Arrangement" for you to take cues from.
That's our list! If you know about something we didn't mention, feel free to post it in the comments! Also, if you want to buy the most realistic silk flowers on the market, click here. Otherwise, thanks for reading and have a nice day!